Product
Ø3mm Disposable hand control electrosurgical pencil, Laparoscopic type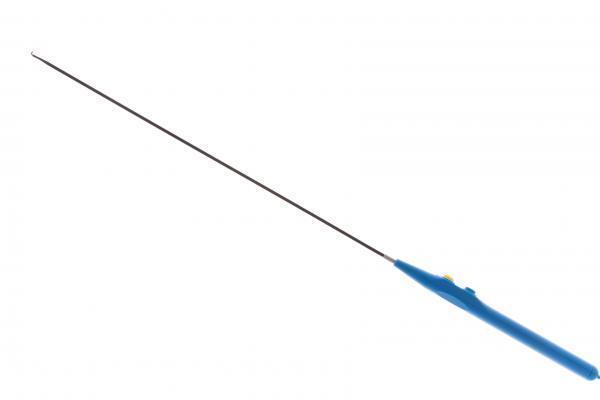 3mm Laparoscopic handle
Product ID: SW12200 Laparoscopy Series Ø3mm
We are committed to be more efficient in operation and to minimize the possibility of post-surgery injury caused by our products.
The feedback from our customers is what made us strong in competition. Therefore, we have our products developed and integrated to meet surgeons' needs and to improve patients' conditions.
We use 3mm trocar instead of 5mm trocar because it is more beneficial to both surgeons and patients in laparoscopic surgery with the benefit of reducing tissue damage, wound infection, port-site herniation, and skin scarring.
The recovery time and post-surgery pain can also be reduced by using 3mm trocar compared to 5mm trocar. Therefore, we have developed a new disposable laparoscopic handle with an electrode to fit 3mm trocars better.
A new disposable handle is introduced for laparoscopic surgery; features lightweight, hand control, and small volume, which is with a better grip and an easier control during an operation.
Handle

Specifications:
There are two types of the electrode — L-shaped non-stick and L-shaped stainless available for use.
Non-stick series is equipped with 3 working length (WL): 300mm, 200mm, and 160mm; 300mm of stainless material is also available.
Features:
Lightweight
Hand control
Small volume
Research indicated that using non-stick electrodes has better surgery outcomes and safer surgery environment. For instance, using non-stick electrodes can reduce the risk of fire during surgery. Furthermore, it can also help reduce electrode cleaning time, so the operation time can be shortened and be more efficient. SHINMED provides more options for non-stick 3mm electrodes to enhance surgical outcomes.
See more complete detail
Non-Stick Electrode, Single Use, Sterile, Ø3mm
WL 300mm - SW12200-D11
WL 200mm - SW12200-D16
WL 160mm – SW12200-D17
Stainless Electrode, Single Use, Sterile, Ø 3mm
WL 300mm - SW12200-D0C06
Order Information:
Minimum Order: Negotiable
OEM/ODM Product, Branded Product, Buyer's Label Offered
EXWORK: Taiwan
Contact Detail
| | |
| --- | --- |
| Contact: | International Sales Team |
| Address: | No. 22, Lane 116, Wugong 2nd. Rd., Wugu Dist., New Taipei City, 24888, Taiwan, R.O.C. |
| TEL: | +886-2-22900966 |
| FAX: | +886-2-22903966 |
| Email: | export@shinmed.com |
| URL: | http://www.shinmed.com |